Astrology Guidance by Padmesh Ji

Accuracy in astrology predictions, specificity of the event and pinpoint timing of the event is the main feature of his work of astrology/ horoscope analysis, reading. Even major events i.e. job, marriage, to minor events of day to day life is easily predictable by this Indian Vedic Astrology System. He can predict all about anyone's query, whether they will materialize or not, when & How? And Suggest the best possible Vedic remedy by Vastu, Tantra, Mantra, Yantra, Gem and many more.
Pandit Ji endeavors at covering all the diverse aspects of Indian astrology which is as old and acknowledged as the Indian system. Pandit Ji includes numerology, palmistry, zodiac system, vaastu etc. in order to keep mental acumer as well as predicting the future.
Padmesh Ji takes personal and in-depth intention to each and every identity / horoscope and provide the best solution/remedy/prediction with the help of all aspects of Traditional Indian Astrology.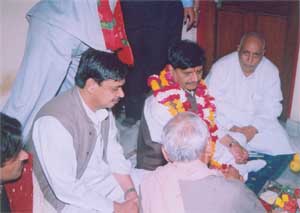 Pandit Ji discussing with Sri Shiv Pal Singh Yadav, PWD Minister, Govt. of U. P.


Pandit Ji Performing "Anushthans"


Expertise in Vedic Astrology comprising the following aspects of a person based on the study of a horoscope :-

>> Personality, health, nature, potential for achievement or otherwise in life.
>> Potential for financial gain and accumulation of wealth. The best sources from where the money can easily come to the native (ie whose horoscope is under study) .
>> State of mind in respect of feeling of happiness. Prospect of own conveyance and house and possible period of attainment.
>> The prospect of gain of progeny (son and daughter) and quantum of happiness from them in life. Whether there is any prospect of financial gain from any type of speculative game.
>> When will be the marriage if not married yet. How will he/she look and his/her relationship with the counterpart and how would the overall conjugal life be.
>> How lucky is the native. Whether he/ she will get the leverage of luck in achieving the objectives or will have to put more efforts to achieve the same.
>> Which are the professions that will suit the native. Whether he/ she should go for service or go for business. Which are the time for promotion in service/ business so that the opportunity can be availed of.
>> Marking of good and not so good times in life. The idea is to take advantage of good times and remain careful during not so good times. Providing "mantras" for recitation or suggestion for wearing precious stones to minimize/ overcome problems during not so good periods. In addition names of precious stones which may be worn permanently will be suggested for enhancement of personality, name and fame, health, happiness, strength of mind, luck.

If you agonize over problems of business, family, career, marriage, relationship, health and spirituality. My online Astrology zone ( KP System ) can provide you insight and guidance on matters that may have troubled you for years.


Pandit Ji performing "Yagya"